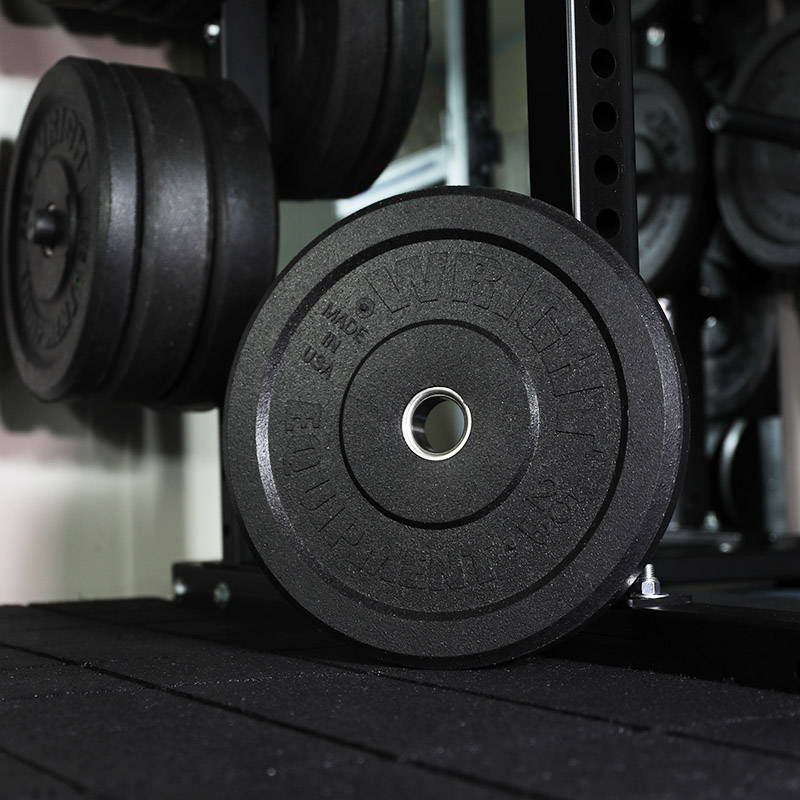 The ultimate combination of durability, quality, and affordability.
Are you looking for a plate that can handle anything thrown at it?
Well, look no further! Wright USA Crumb Bumper Plates are made right here in the USA with pride using recycled crumb rubber. Our crumb rubber plates are the most durable and economical plates on the market with the best warranty among retailers.
All plates are a true 450 mm diameter with a 2" stainless steel center insert shaped to the bumper to properly distribute the force of the bar when dropped. Weighing within +/- 0.5LB of the stated weight. Each batch of 25LB - 55LB wright bumper plates are tested to exceed 20,000 drops from 6 feet. 10LB and 15LB are tested to 7,000 drops. Not to mention, dead bounce allows for low noise workout. These best-selling bumper plates will be the best investment for your box or home gym, Satisfaction Guaranteed!
 SPECS
Bar: Olympic/Power/Functional Fitness/Multipurpose
Material: Recycled Rubber
Insert: Fitted Stainless Steel
Insert ID: 50mm (1.9685 inches)
OD: 450mm (17.7165 inches)
Weight Tolerance: 2% +/-
Performance; Minimal Bounce
Durometer: 75-80
Color: Black/Color
Guarantee/ Warranty: 2-year warranty on the 25, 35, 45, 55, and 100LB; 180 day on the 5, 10, and 15LB plates
Made in the USA: Yes
100LB Plate Width: 6.25"
55LB Plate Width: 4.00"  
45LB Plate Width: 3.50"  
35LB Plate Width: 3.00"  
25LB Plate Width: 2.50"
15LB Plate Width: 1.50"  
10LB Plate Width: 1.25"
5LB Plate Width: 1.75" with the OD of 10"